Granite Headstones in Dewsbury | Marble Headstones in Dewsbury | Memorials
Family owned and operated, Madani Memorials cares deeply about the families we serve. We will help you design a custom headstone, memorial or monument as a permanent tribute for your loved one.
You deserve nothing less than excellent, compassionate customer service, excellent design, and trustworthy manufacturing when seeking the right company to preserve the memories of your loved one. In moments such as these, you deserve and should expect the best.
Over the years we have worked on projects large and small, from memorial plaques for your garden to large memorials. Each design request is different and we will strive to create your memorial with professional taste, and precise attention to detail.
Madani Memorials granite, marble and stone sculptors are here to bring your vision to life. Whether you prefer to work on your design in the comfort of your home or you would like to schedule an appointment with our specialist, we are here to make this process as easy as possible. We understand that when you contact us it's a difficult time.
We offer a large selection of quality headstones & memorials (granite and marble) at affordable prices. We use only the best granite to make our headstones and memorials and we employ some of the best craftsmen in the Yorkshire area to provide you with a granite memorial of the finest quality available.
Why choose Madani?
Turnaround of 4-6 weeks of "In Stock" materials
Turnaround of 12-14 weeks for specialist orders
We use the finest, top quality Indian granite
We won't be beaten on any genuine quote
Because of local logistics we offer further discounts within the West Yorkshire area
Call us today, we're here to help.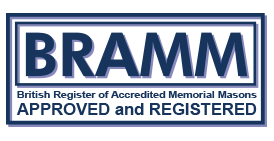 Muslim Headstones | Islamic Headstones
At Madani Memorials we specialise in the needs of the Islamic community, supplying a range of beautiful headstones and memorials to suit every need and budget. We have been supporting families in creating lasting tributes for their loved ones for many years. We can create beautiful carved text in Arabic, Urdu and English.
If you are unable to visit us at our showroom, our representatives will be pleased to call on you without any obligation to order, we can show samples of various materials and offer advice as to the layout and wording of your choice.

For further information, please do not hesitate to contact us. Fore more images please click on the button below to take you to our gallery.

You can Download our latest 2017 brochures below.